Whether you're logging miles for mutts, knitting for kittens or reading for the rabbits, show your support for PARL by making progress on your goals and asking your friends and family to donate in support of your efforts!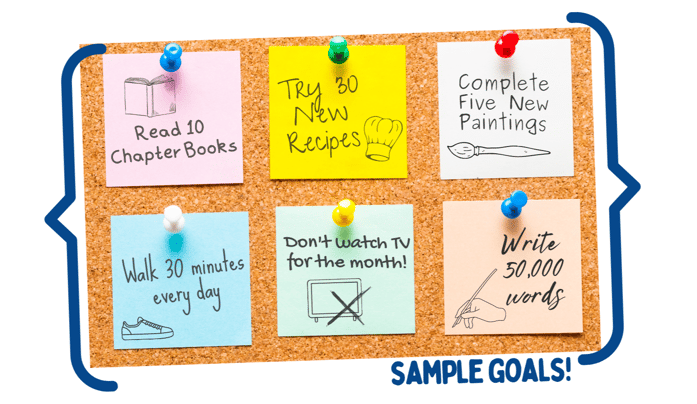 1) SET YOUR GOAL: The sky is the limit when making your goal and can be something important to you, your family, your business team, or club! Please be safe and considerate of others while creating and working toward your goal!
Here are some ideas and inspiration:
Arts & Hobbies

Fitness

Make your goal related to total number of miles/time during the month spent running, walking, biking or

number of push-ups, sit-up, weight lifting reps completed during the month

More or Less Challenges

Challenge yourself to reduce amount of TV watched or added sugar consumed over the month

Set goals to hit your daily water intake every day during the month, to rise earlier to meditate, or to eat more greens with every meal

School/Business Related

Get the whole team involved with a creative motivation to finish a big project, hit internal metrics goal, or create something special together

Fun and Creative

Goals don't have to be practical! Get creative and challenge yourself/your family/your club to think outside the box.

Examples might include things like watching all of the Harry Potter movies back to back during a weekend in September, listening to one song on repeat for a weekend, or listening to all of the episodes of one podcast during the month
2) SIGN UP AND CREATE YOUR FUNDRAISING PAGE/TEAM: Click here to sign up!
3) SHARE AND SPREAD THE WORD: Friends, family, coworkers, and neighbors can sponsor you as you aim to achieve your goal and make great progress for paws. They won't know about your goal unless you tell them, so spread the word using social media, email, and conversation! Their sponsorship donation is tax-deductible as allowed by law and will help you reach your personal goal and fundraising goal.
4) POST PROGRESS UPDATES AND SHARE ON SOCIAL MEDIA (USE HASHTAG #PROGRESSFORPAWS) We want to see how you're doing and help cheer you along. Please post updates on your fundraising page and through social media.
5) JOIN US FOR A CELEBRATION PARTY! Save the date for September 30th from 6-8pm and join other Progress for Paws participants and PARL friends and supporters for a victory celebration! Friendly, leashed dogs welcome. See all the details here!