PROVIDENCE FLEA - SATURDAY, september 24th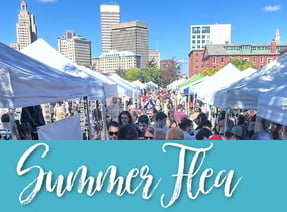 Providence Flea is a popular marketplace with vendors that include carefully selected, small- and micro-businesses with hand-picked, homemade, handcrafted and small batch wares. ​The Flea has hosted over 2,500 local vintage vendors and some of the area's most creative artists, artisans and makers, plus community non-profits, food trucks and carts, and live musicians.
The Providence Flea returns outdoors in the summer and early fall every Sunday, activating a small parcel of greenspace along the river along South Water Street in downtown Providence, RI.